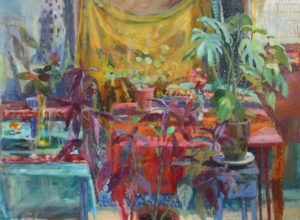 Carol's latest show was favorably reviewed by Liz Trapp, an art historian, arts writer, and artist.  The review, under the heading Discerning Patterns at Hammond Harkins Galleries Places Impeccable Craftsmanship on View
can be found in the Columbus Underground.
"An evocative show of over 30 works examines the relationship between craft and fine art.
Discerning Patterns, an exhibition of Carol Stewart's paintings and Janice Lessman-Moss's textile works at Hammond Harkins Galleries, is inspired by the interplay of color, pattern, and impeccable craftsmanship which is present in both artists' works.
Stewart, a Columbus-based still-life painter, and Lessman-Moss, a professor of Textile Arts at Kent State University, are tethered together by references to domesticity, and yet Discerning Patterns is after something larger than that. This exhibition brings up complex and relevant issues of fine art, a context that Stewart's paintings would traditionally belong to, versus craft, the context that Lessman-Moss's textile works would belong to. In recent history, since the 1940s or so, craft has taken a backseat to fine art in the context of the gallery setting. Aside from that, craft is typically analyzed through a varied set of terms that center on functionality and use-value.  What sets Discerning Patterns apart is the requirement that the viewer give equal space to each object, and therefore analyze the works through a fixed lens.
Stewart's paintings, mostly still-life and interior scenes, are tied to representation. There are moments in Stewart's paintings where her loose brushwork seems to define something else, elements of pattern which aren't tied to objects at all. Studio Patterns is exemplary of Stewart's aim. Using oil on paper, mounted on canvas, Stewart achieves a buttery smooth surface to her images. The absorption of the oil into the paper creates evident transparent layers of paint which are often hidden in the medium.
The painting is an interior scene of Stewart's studio, packed with too many plants, tables with patterned cloths, a textile draped in the background –  it's so busy that your eye doesn't have a place to rest. This is an important aspect of the work because it is the packed picture plane itself which seems to transform the canvas to an abstract pattern forcing it to depart from observational reality. This reminds me of the French painter, Henri Matisse's lively interiors of the early 20th century where his very aim was not to let the eye rest."  More